About
WELCOME TO ICPPS 2020!
The 2020 5th International Conference on Pharmacy and Pharmaceutical Science (ICPPS 2020) will be held during March 25-28, 2020 in Meiji University, Tokyo, Japan. ICPPS 2020 is to bring together innovative academics and industrial experts in the field of Pharmacy and Pharmaceutical Science to a common forum.
The primary goal of the conference is to promote research and developmental activities in Pharmacy and Pharmaceutical Science. Another goal is to promote scientific information interchange between researchers, developers, engineers, students, and practitioners working in Japan and abroad. The conference will be held every year to make it an ideal platform for people to share views and experiences in Pharmacy and Pharmaceutical Science and related areas.
ICPPS 2020 welcomes paper submission including abstract and full paper which is not published elsewhere. Topics of interest for submission include, but are not limited to:
Pharmacognosy and Phytochemistry
Pharmaceutics and Pharmacotherapeutics
Pharmacology and Toxicology
Pharmaceutical Chemistry
Pharmaceutical Microbiology
Learn More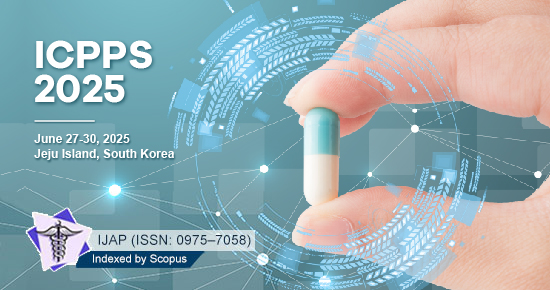 Special Issue
Selected papers (after adding at least 50% new material) will be recommended for reviewing of publication in Biomedicines (ISSN: 2227-9059, CiteScore 3.33) as a Special Issue, indexed by Scopus (Elsevier), Science Citation Index Expanded (SCIE), PubMed, Inspec (IET), EBSCO, etc.
For registration click here.